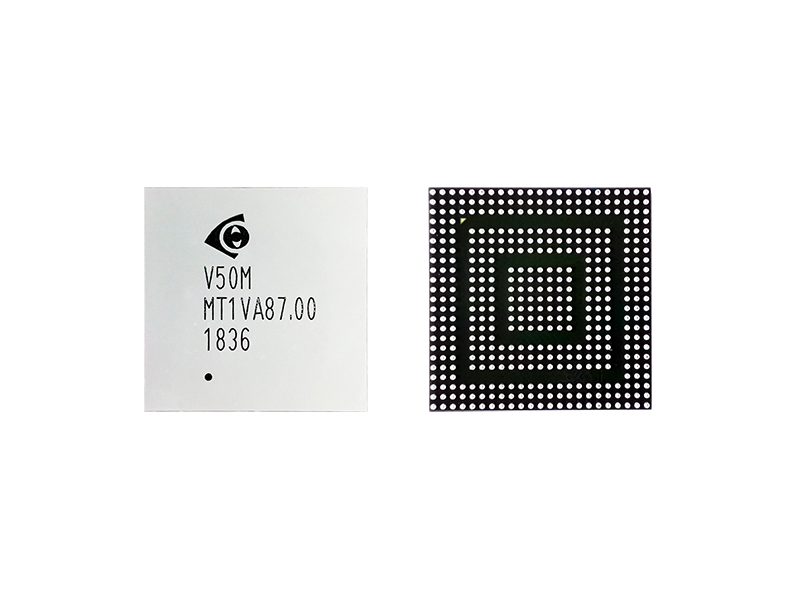 V50M
UHD 4K Camera Processor
The iCatch V50M is a system-on-chip solution that enables various high-end camera applications, such as DSC, action
camera, automotive camera, surveillance camera and more. Not only does it include a dual-core Rise CPU and
an OpenVG GPU, but it also integrates iCatch's 6th generation image signal processor, H.265/H.264 Codec for
4K2K resolution, and a programmable imagine and computer vision DSP. Furthermore, a rich set of acceleration
engines are also incorporated into V50M to support the most advanced image processing technology, such as
multi-axis EIS, multi-frame super resolution and HDR.
V50M has 12 data lanes which supports a variety of sensor interfaces and raw image data capture at 1200M pixels/s and the image
signal processor works seamlessly with the JPEG engine and storage media controller to enable high-speed burst capture up to 300M
pixels/s. Audio codec, MIPI D-PHY and HDMI PHY are also included in V50M to minimize system BOM cost and to maximize design
flexibility. For connectivity, V50M comes with USB host and stand-alone SDIO interface for WiFi and 4G/LTE modem as well as
Ethernet MAC for Gigabit Ethernet.
FEATURES
Image Sensor Interface
 12-lane SubLVDS, HiSPI and MIPI-CSI2 serial interfaces
 Quad sensor inputs
 CMOS sensors up to 42M pixels resolution
Advanced Still Image Processing
 Raw data capture speed up to 1200M pixels/sec
 JPEG codec speed up to 300M pixels/sec
 Motion compensated temporal filtering for video noise reduction
 Real-time multi-frame HDR video
 Real-time super resolution enhancement for image zoom
 Real-time multi-axis electronic image stabilization (EIS)
 Real-time multi-segment rolling shutier correction (RSC)
 Advanced raw noise and high-ISO noise reduction technology
 Lens distortion correction (LDC) and dewarping engine
 Local tone mapping WDR video
 Edge enhancement over-shoot control
 Motion-based object tracking engine
 Face beautification
 Dual-core face detection and tracking engine
 Red-eye removal, blink detection, and smile detection
Video
 H.264 BP/MP/HP and H.265 MP up to Level 5
 Real-time encode and decode at 4K2Kp30
 H.264 CABAC/CAVLC and H.265 CABAC entropy coding
 Up to 8 simultaneous encoding streams
 Support I/P/B slice
 Advanced bitrate control
 Motion-JPEG up to 4K2K resolution
Memory
 32-bits DRAM controller up to 800MHz
 System in package 4Gb LPDDR3 SDRAM
Processor Cores
 Dual-Core ARM Cortex-A7 processors up to 800MHz
 iCatch image processing pipeline and acceleration engines
 Video DSP up to 400MHz which automatically offload Computer Vision tasks from CPU
Audio
 MPEG-1 layer 1/2, MP3, AAC, G.726
 Wind sound reduction filter and notch filter
 Dynamic range control
 I2S interface to external audio codec
 16-bit stereo audio ADC with microphone input
 16-bits mono audio DAC with 1 lineout to TV and 1 speaker output
Display Capability
 OpenVG and EGL graphic accelerator
 Real-timer vector graphic with sustainable performance at 1080p
 MIPI-DSI support
 On-chip HDMI controller and PHY
 BT.601/656/1120 digital interface
 On-chip PAL/NTSC encoder and TV DAC
 Dual display capacity (LCD and TV)
Peripherals
 NAND and SPI flash memory
 SD/SDHC/SDXC, MMC, and eMMC4.5/5.0
 USB 2.0 device and host controller with PHY
 Ethernet MAC with MII/RMII/GMII interface
 Many GPIO, PWM, UART, SPI, and I2C ports
 Real-time clock and watchdog timer
 Multiple channels of 12-bits SAR ADC
 Touch panel interface
 Stand-alone SDIO controller for wireless device
Package
 433-ball HSBGA package with 15 mm x 15 mm x 1.6 mm
 Operation temperature: 0°C to +70°C